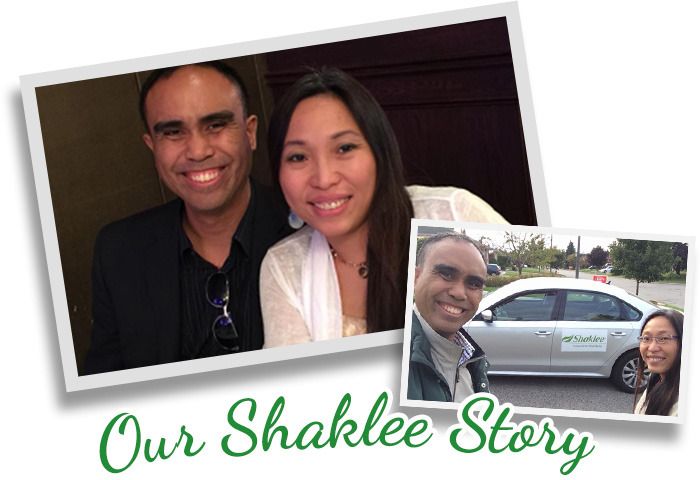 MAKE YOUR DREAMS REAL WITH SHAKLEE
Best selling author, motivational and business speaker highly recommends that everyone join s a Network Marketing, because just getting around positive people alone, who are building an extraordinary, wealthy life and creating happier and positive friendships is highly important. This is why we chose the Shaklee opportunity.
The Shaklee Business has also empowered us to create a life for ourselves. We truly love helping others, whether with health, financial, dreams and more.
We are extremely thankful to God for Shaklee and the wonderful blessings he has brought into their lives.
Does the sound of helping others appeal to you? Do you want to lose a few pounds or feel better? How about living life on your own terms, travel to luxurious and exotic all-expenses paid destinations, and create the income you so desire?
If any of these things appeal to you, just contact us and we will get in touch with you.
OUR STORY
Shaklee came into our lives in diffferent ways; one through seeking and the other through being found. We are very grateful and blessed to have Shaklee in our lives. Here are our stories.
CHYRELL'S STORY
I had been looking for a business opportunity that would let me use my educational background and interests in travel and so much more. I was introduced to Shaklee by Rodney for both the business and most of all, the science and health benefits.
For years, I stuggled with allergies, sicknesses and flu. One of my other challenges was low iron and anemia. But once I started using Shaklee products, my health turned around. I no longer have low iron deficiencies and my energy went up. My allergies had subsided, reducing any need for allergy medications.
Like in Rodney's story (which you'll read below), I have lost weight, over 20 lbs and even had to use pins to tighten my dresses!
RODNEY'S STORY
Before Joining Shaklee, I was having severe respiratory and immune challenges. I have had this since elementary school life, from a cough that would not go away, asthma, multiple allergies, revisted bronchitis, to so much more.
I later discovered Shaklee from a bookstore and also through a Massage Therapist whom I met at a seminar. I was put on a health and wellness program using Shaklee products. Within three weeks of using the products, my life-long hacking cough, bronchitis, flu, asthma, allergies and other health conditions were all healed.
I even got to lose weight, about 75 lbs and went down to a size 34 pants from size 40.